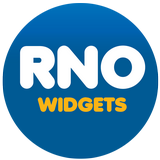 Desktop widgets are small single-purpose utilities placed on your desktop and RNOWidgets is a single application incorporating several of them.

Features:

Analog Clock, Digital Clock, Calendar (ISO standard), Notes, Pictures (local and net), RSS Feeds, Sticker, and Weather widgets
Stylish user configurable widgets (graphics, fonts, colors, etc., can be freely swapped)
Pre-defined themes
All widgets are freely re-sizeable and moveable
Supports alpha channel transparency and has an option to create window drop shadows automatically (with or without compositing/accelerated layers)
Versatile alarm system
HTTPS support through AmiSSL v4
ARexx support
More detailed information can be found here.

Download for MorphOS from Aminet or MorphOS Storage, or via Grunch.
Other download methods are preferred, but a local copy is provided here in case of problems.
RNOWidgets is donationware, click the Donate button here if you keep using the program.